Attendance:
Jerry S., Jay L., Gus S., Ray N., Hock N., Ross A., Frank W., Jimmy W., Khanh T., Jason T., Darek K., Manny F., George W., Guest Christian M.
The New Jersey Aquatic Gardeners Club held its March 12, 2016 meeting at the home of Gustavo S. in North Arlington, NJ. The meeting was called to order by President Jerry Smith around 12:30 PM. He welcomed two new members to their first club meeting, Jimmy W. and Frank W.
Our Treasurer Jay L. gave a brief report on the finances of the club.
We discussed the possibility of a Local Fish Store run for a future Saturday covering stores in NE NJ and NYC. Interest was generated and a poll will be started on our forum to work out dates and times. Join our club if this interests you.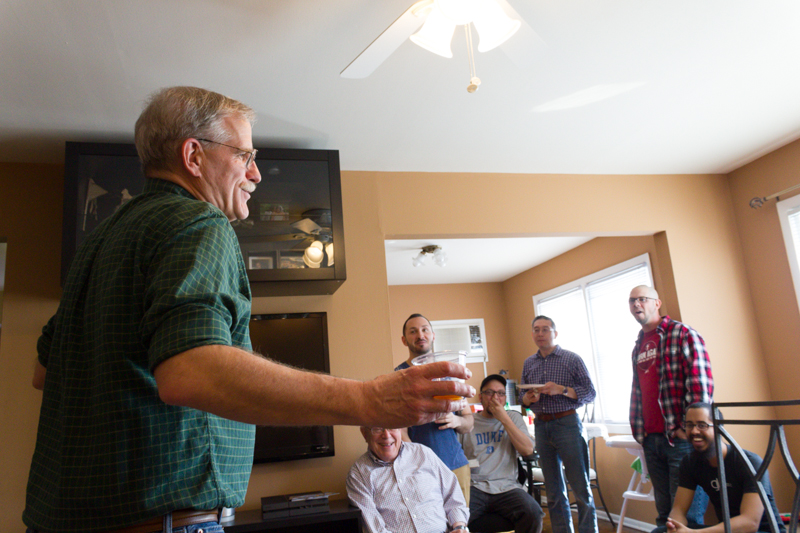 We described The Aquatic Gardeners Association for our new members. They were encouraged to join to get the journal. It is a good source of information. Those of us that attended the 2015 AGA Convention in Washington, DC remembered it well and the good times we had.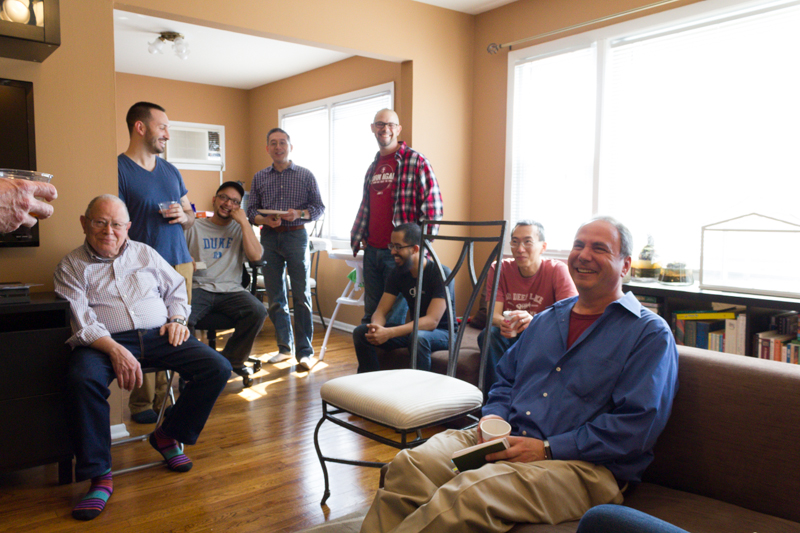 Gus describing his nano tanks on a bureau in the bedroom. The left tank is a shrimp only tank.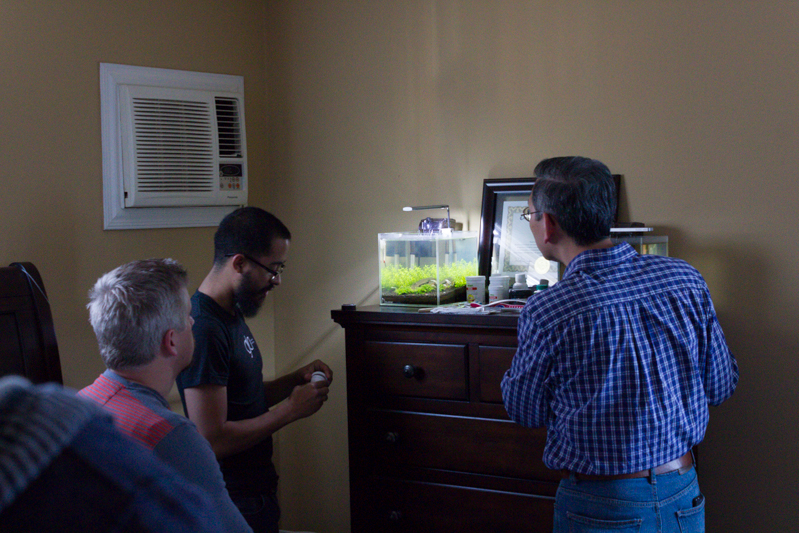 Gus unboxing his new glass inlet and outlet tubes. Time to get them into use!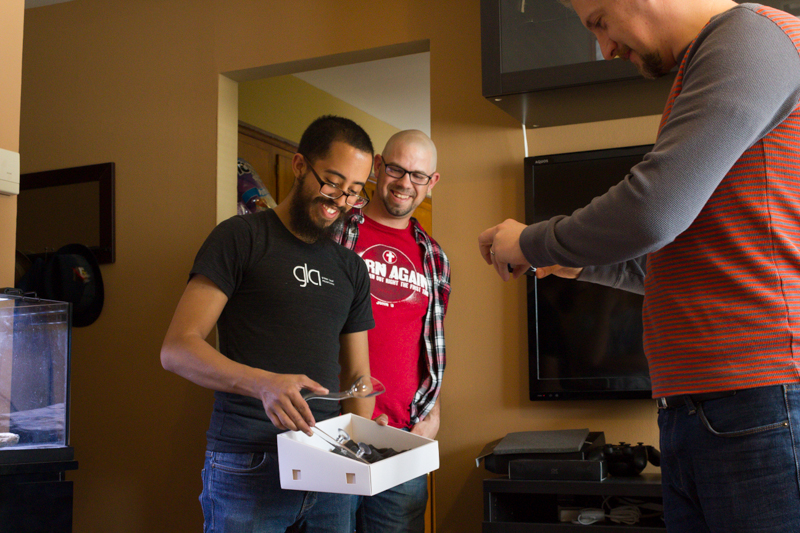 The food was great. And plenty of it. Nobody went hungry.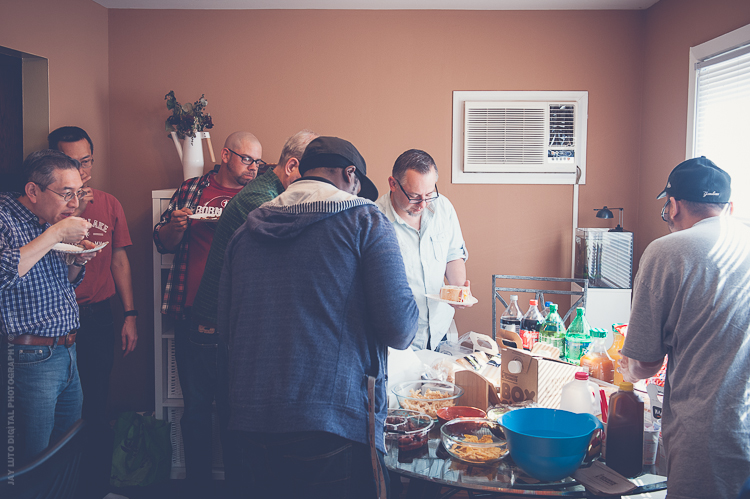 The 21 gallon tank before we set it up after we toured Gus' tanks.
The base for the ADA substrate system.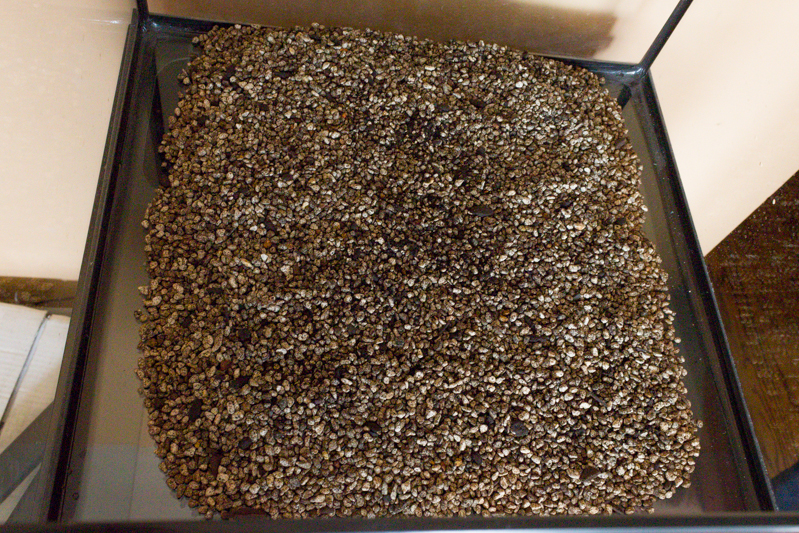 Deciding on rock placement on the towel footprint Jay nicely folded for us.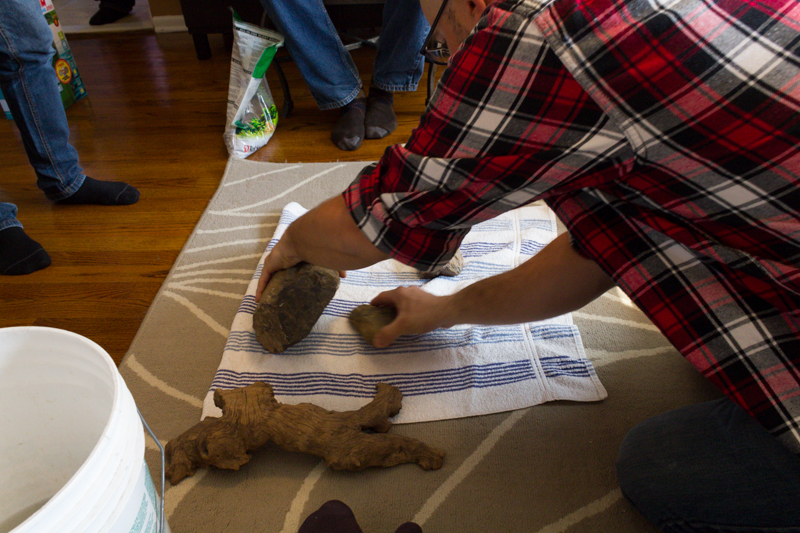 Much easier to move rocks on a towel than in the tank.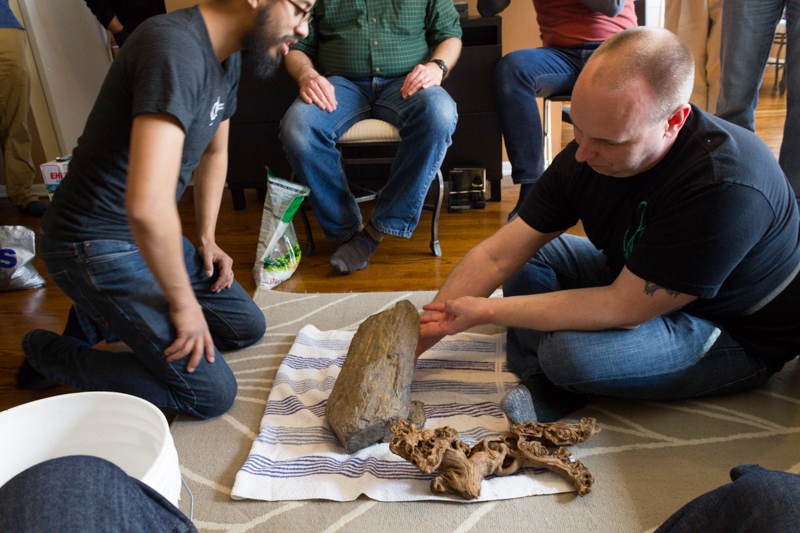 The substrate and its components being installed.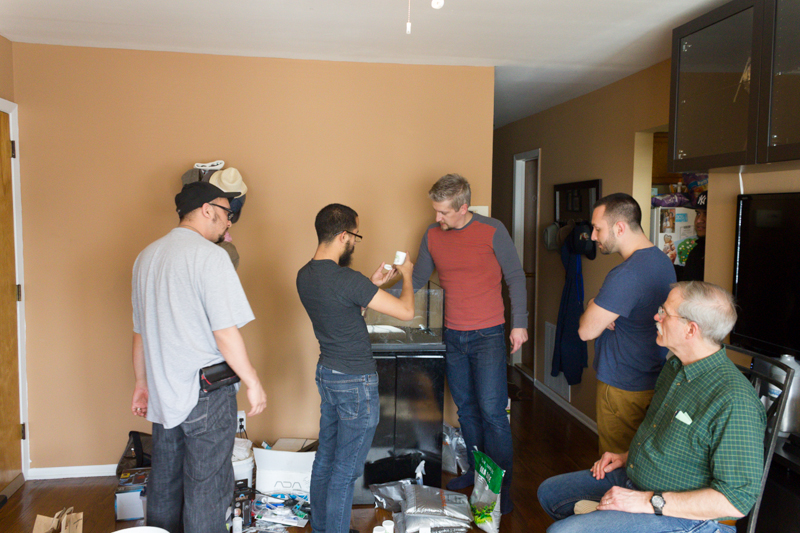 Something was really funny. Wish I remembered.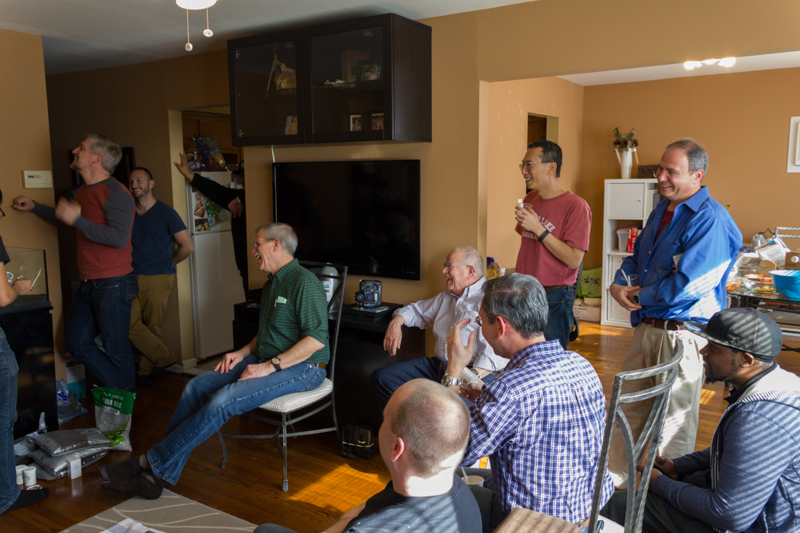 Khanh very patiently planted a foreground of Monte Carlo. Very tedious. Thanks to Khanh for his patience.
Keeping the newly planted plants moist by misting with water is a very important step when planting an aquarium.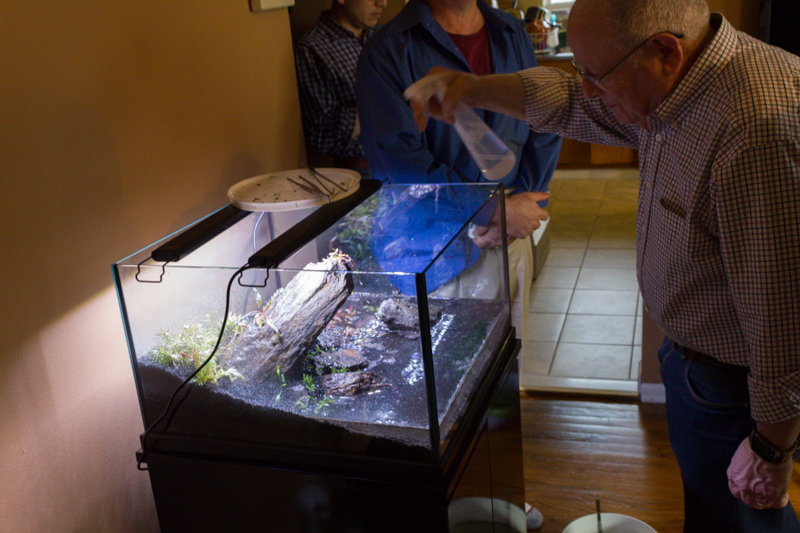 Some of the plant swap plants that were used in planting Gus' tank.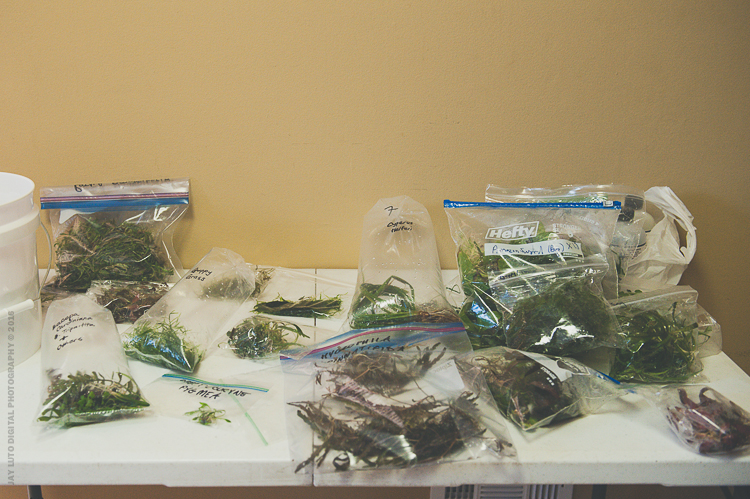 Gus talked about shrimptank.com as the site where he purchased stainless steel filter guards. http://www.theshrimptank.com/hardwar…filter-guards/ These guards are essential to prevent baby shrimp from getting sucked up into the filter.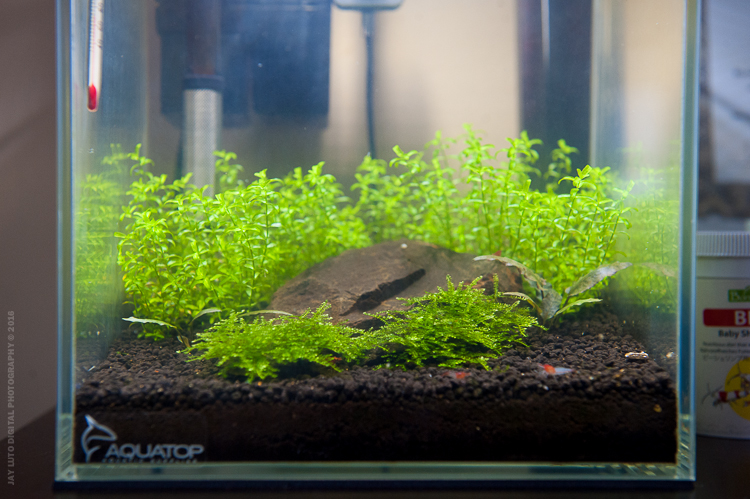 Gus' Dining Room Nano tank. Contains Cryptocoryne wendtii, C. parva, and Monte Carlo as a foreground plant. Nice petrified wood for hardscape.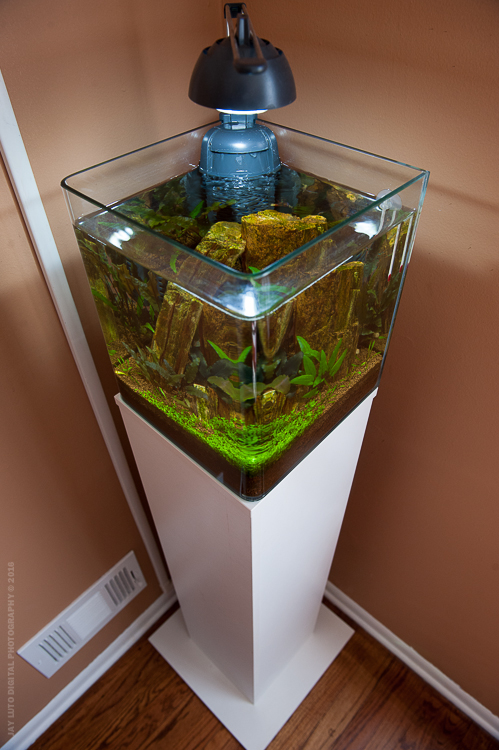 Nice close up view of the petrified wood and a Crypt.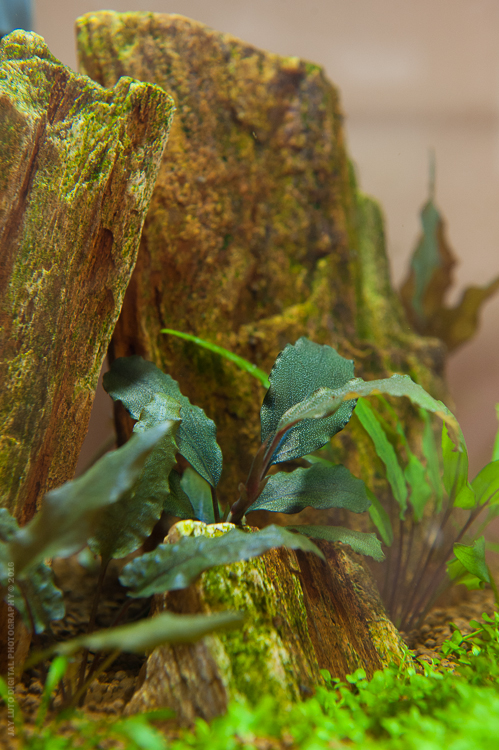 Jerry brought two one gallon jars where he is growing a few Bucephalandra emersed on driftwood. He is experimenting with growing these plants on Mopani wood covered with a thin layer of Mineralized Soil/Clay mixture topped with Long Fiber Sphagnum Moss. The plants are tied onto this substrate with nylon fishing line. There is about 1-2″ of water over the substrate in the jars where he has a few Cryptocoryne parva planted. So far the Buces are slowly growing in the 6 months they've been set up.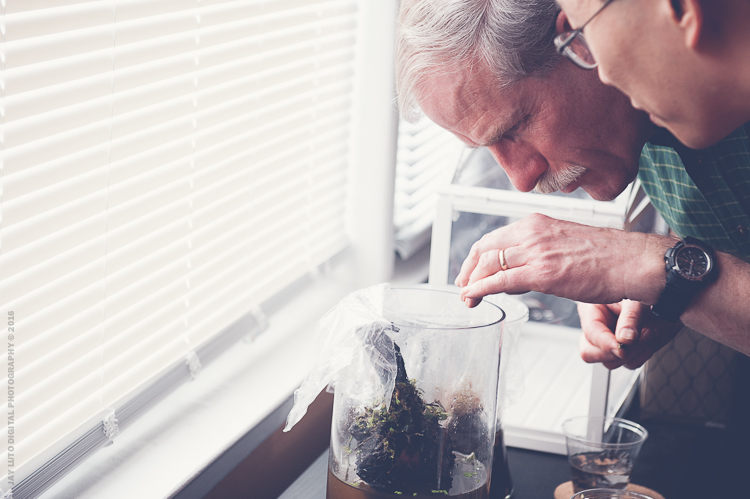 Final placement of the rocks before adding some water and plants.