The December 1st 2012 meeting at Darek K's home started off more like an auto club meeting with a few members under the hood on Stanley Ks truck. His truck was acting up on the ride over, but he pushed through adversity to make the meeting. That's dedication!!!
End result of vehicle investigation was inconclusive at that time and Stanley eventually had to call AAA for a tow.
While waiting for the last members to arrive Darek had some wonderful Heroes and pizza from a local establishment.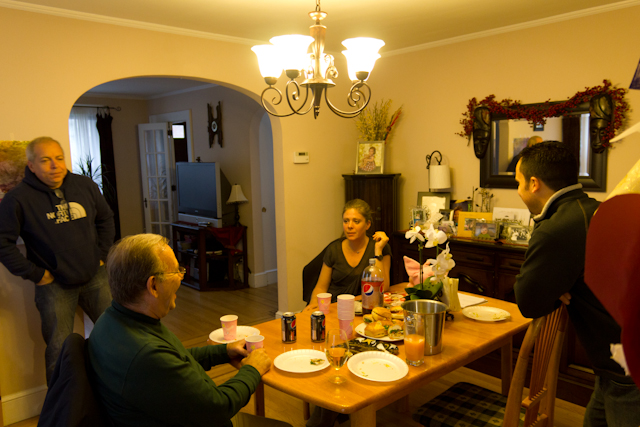 After feeding members Darek escorted them down to his Aquatic Dungeon (fish room in the basement) where we were greeted by a marvelous 125 gallon planted wonderland which would make many envious.

This tank was filled, top to bottom, with interesting plants and fish which would keep the on looker in a daze for hours on end.
Not to be over looked or out done by the 125, Darek has two 40 gallon breeders that are set up on a customized stand one on top of the other.
With their seemingly endless pastures of hair grass and well place hard scapes grabbing your attention.  Wondering what will pop out from the depths of the green meadows, will make you late for your next engagement. Ask Jerry!
If you turn around in this magnificent fish room and take your eyes off the beauty which is Dareks planted tanks, there are 3 tanks, again one above another with multiple projects happening at once.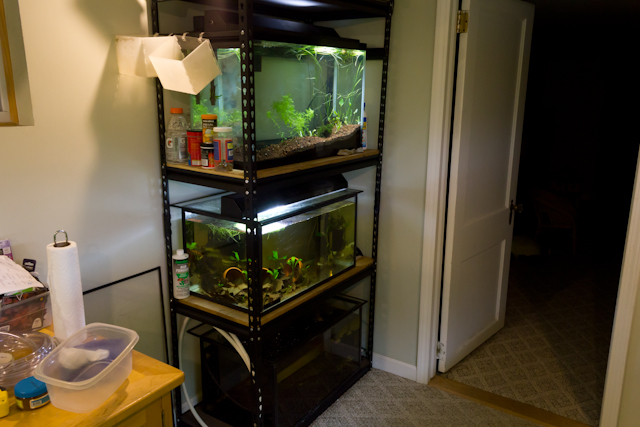 The top tank is a quarantine tank that has few plants and a couple of fish. The middle tank has a breeding pair of Apisto cf. eunotusand the bottom was being cycle for a pair of Apistogramma baenschi "Inka".
With all these tanks looking as good as they do, one would have to ask how you do it? We would have to take a quick glance at the floor in between his three planted tanks and see where the tech begins.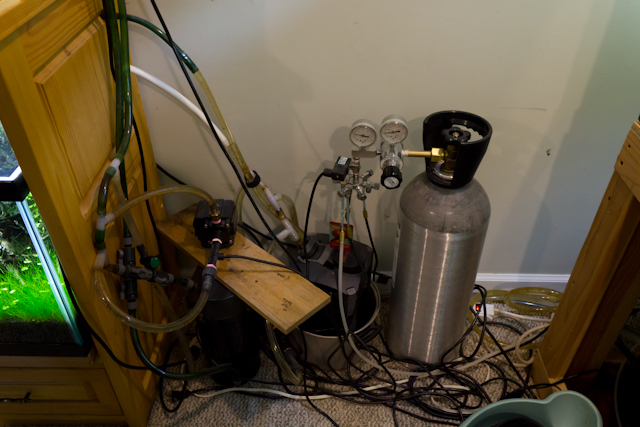 Darek has an intertwined system of hoses connecting all three tanks that sports a Mazzei Co2 injection system which is supplied by a 20 lb tank. But wait that's not all, in this wizardry of plumbing Darek also has a manual water change system that drains the water to the back yard and fills from a connection that comes from his refrigerator.
During the tour of Dareks Aquatic get away we began talks about the plants he was keeping as well as his use of Mineralized Soil Substrate and fertilizers with dosing schedule.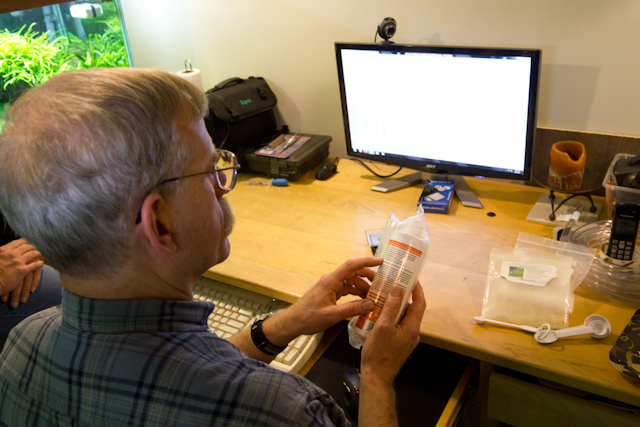 This turned into a fortified CSM conversation headed by NJAGC president Jerry Smith. The pros and cons of adding Boron were discussed as well.
At the conclusion of the meeting Darek began a plant swap right out of his tank. Also coming to the rescue, Paula and Hank saved the day by offering Stanley a ride home!!! Way to take care of your own!!! All in all if you missed the meeting you missed a lot. As always great conversation, great friends and Dareks hard work made for a meeting that will not be soon forgotten. A big thank you goes out to Darek and family for making this meeting as enjoyable as it was.
Members in attendance were:
Darek
Hank
Jason
Jerry
Stephen
Stanley
Paula
Jon L
By NJAGC secretary – Jason Tessitore