April 2007 Meeting
The sixth meeting of the NJAGC was held on Saturday, April 28, 2007.
It was hosted by Ingo Schobert and family at their home in Montclair, NJ.
In attendance were 13 people, 2 of which were first time attendees!
Joseph HoetzlJay L.Sergio CanabalMike FirrinciliIngo SchobertPaula B

Rhonda G

Walter ReedHank SiegelGlenn McCreedyBrian WaldbaumJon EdwardJerry Smith
Ingo and his wife had an assortment of cheeses, vegetables with dip, cookies, brownies, chips and dips.
(Still waiting for someone to dare serve fish with a salad and/or Pepperidge Farm Fish :-).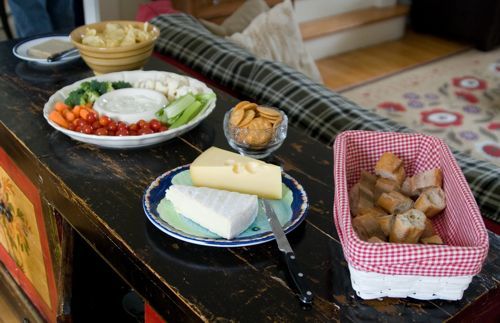 Just some of the refreshments Ingo served up
When I arrived, a few folks had already arrived, and more members began arriving, shortly after that. One of our members turned up, and was offered a beverage by Ingo.
His response was re-enacting a scene from Forest Gump.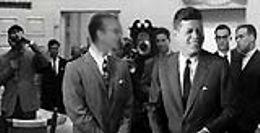 Scene from Forest Gump
Anyway, shortly after everyone expected was there, Mike started the meeting off with some "business".
He explained about the finances of the club, talked about members hosting meetings, and how it all works. He encouraged anyone interested in hosting to contact any of the club officials and we'll work with them to set it up. Walter then provided that status of the NJAGC treasury.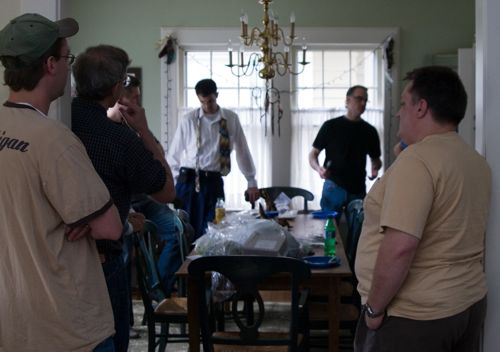 Opening remarks –
Glenn, Jerry, Jay, Sergio, Mike, Walter
He then turned the meeting over to Ingo.
Ingo reminded everyone to enjoy the refreshments and after some short introductions, led us into the basement, where, he maintains 4 tanks.
There was no hocus pocus this time, just 4 tanks, right out there. I was a bit stunned by what he had lurking in the basement.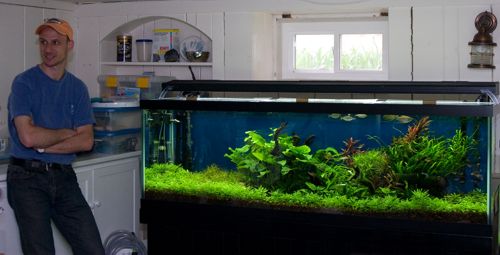 The man and his TANK – Ingo with the 125 Gallon "High-Tech"
This is Ingo's 125 gallon, high-tech tank. It has an Eheim 2028 and an Eheim 2026 for filtration, a gravel (a decision Ingo isn't so happy with, but seems to work) substrate, CO2 injection via a ceramic diffuser, with the output of it feeding into a small powerhead to aide in distribution of the CO2 bubbles.
The foreground is Wisteria, and he explained that the left side is mostly the "bottoms", and the right side is the re-plants of the tops. I think we all agreed that the re-plants look better than the "bottoms" so over time, Ingo may just start swapping some in from the right, beginning the process all over again.
| | |
| --- | --- |
| | Looking into the left side of the 125 – CO2 Diffuser |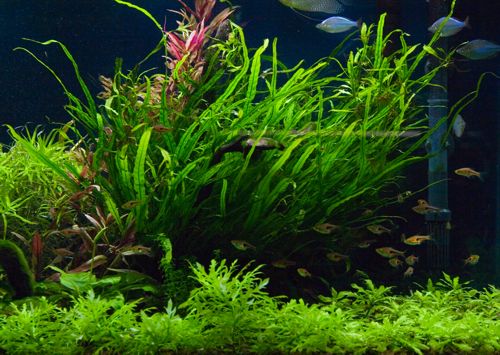 The right side of the 125 Gallon Tank
Ingo then when on to describe his vision for the tank, including the ideas of building up the left side of the tank with slate, creating a path of either sand or riccia down and off to the right.
I don't know about you, but some of Ingo's "vision" seemed to indicate some spillage…
Ingo didn't want to co-operate with my "constitutional" shot as he was wearing a hat, but this is the best I could get…
As close to that Ingo looking into a tank shot as I could get
We then progressed to discussing the 40 gallon walk-around tank. This is another high-tech tank, fairly high light, CO2 enriched. Ingo described the difficulties in keeping a tank in which all 4 sides are visible, and, I think he is doing a real good job of it.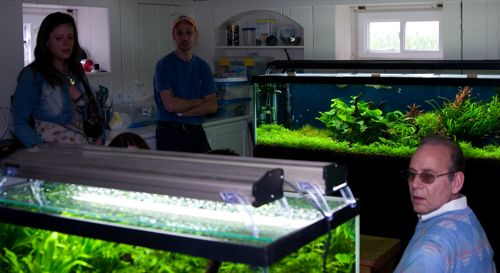 Paula, Ingo and Hank looking into the 40 Gallon tank
Now, speaking of that CO2 enrichment…in this 40 gallon tank lives a little collection of 3 female Apisto's, and one male Apisto, which should make that one very happy male Apisto, but alas, he has a problem, he is ADDICTED to CO2! This fish will readily consume the bubbles as they leave the diffuser, and will defend his stash.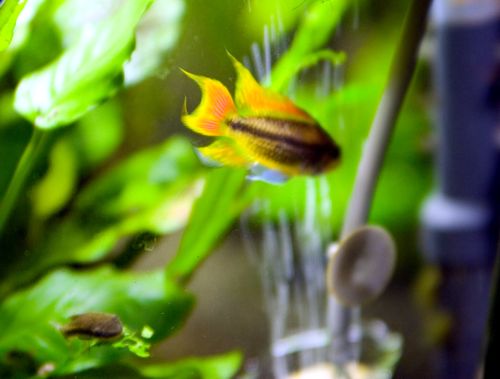 CO2 addicted Apisto, with an Oto thinking about it
Well, with that Apisto busy trying to catch the CO2 bubbles, I'm surprised there is enough left for the amount of pearling Bolbitis, (he swore he didn't just do a water change before we arrived), but it did seem to be pearling a lot.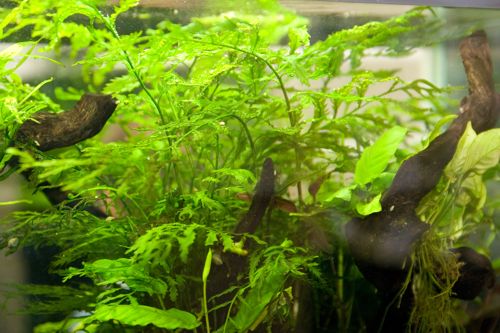 Bolbitis in the 40 Gallon

Flash Content
[ 0:09 ]
Play Now
|
Play in Popup
|
Download
Watch the 40 gallon evolve from the last meeting at Ingo's
We then moved on to the low-tech 29 gallon tank, in which Ingo has some Platies and not much more in term of fauna.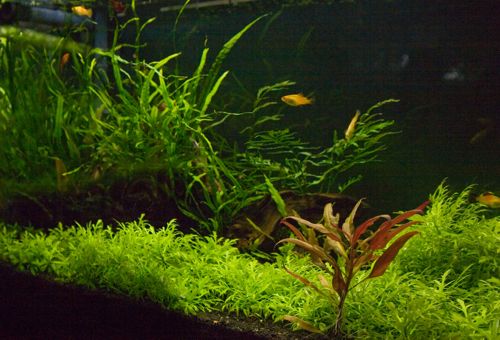 Overview of the 29 Gallon low-tech
The flora is mainly a mix of things trimmed from the other tanks, and a little lonely stem. This little stem is a very non-scientific experiment just to see how it grows in the low-tech tank.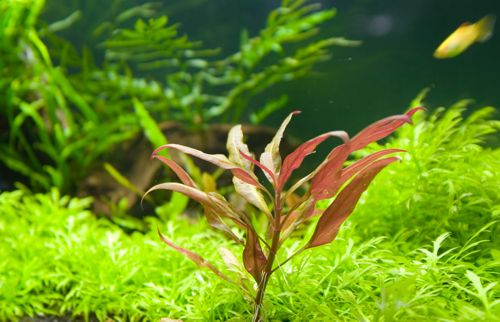 That lonely stem
This tank gets bi-weekly 50% water changes, a rather good dose of Excel (10-12ml's) and some macro ferts only during those water changes. For a tank that doesn't get CO2 and has moderate lighting, I think it had some really nice growth, although Ingo mentioned it is s l  o   w.
Finally, we moved onto the quarantine tank, which, to some, for all its simplicity, was the nicest tank. This is Ingo's playground. Because of its smaller size, he said he tends to re-do it a lot.
This tank has dual aquaclear 50's, and no CO2 either.

The Quarantine tank
Once Ingo's tank overview was complete, we moved into the living room to watch a DVD of the Takashi Amano presentation from AGA 2004. This presentation, which Jay L. got to watch first hand, was stunning. Amano presented some of his vision, as well as a lot of hands-on type explanations of his tanks, as well as his home pond/water garden, and his massive tank.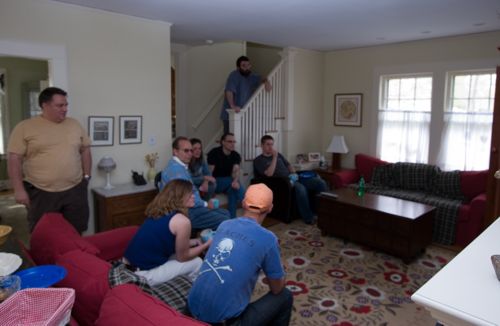 Watching the Amano Presentation
Walter, Rhonda, Hank, Paula, Mike, Brian (on stairs), Ingo, and Jay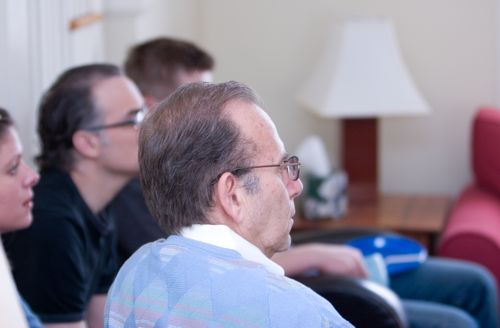 Paula, Mike, Jay and Hank
Finally, we wrapped up with a plant swap and then, we were caught completely off guard by the generous donation of planted aquarium related equipment by Brian Waldbaum of Hydropolis.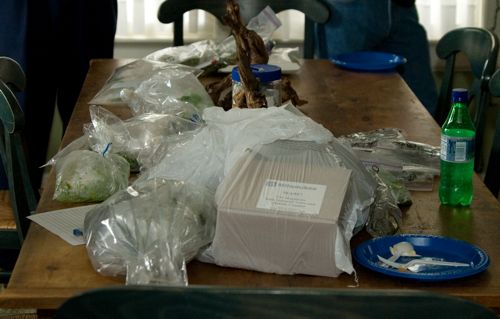 Plant Swap and more
And here are some pictures I didn't work into the summary…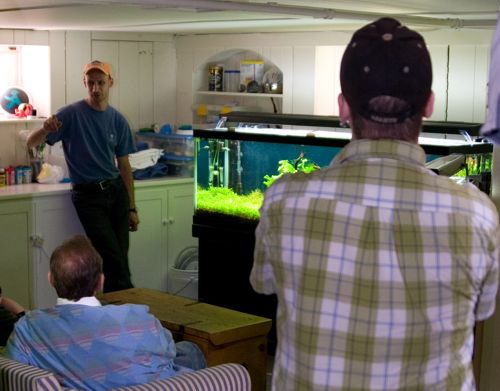 Hank, Ingo, and Jon

40 Gallon Walk Around Tank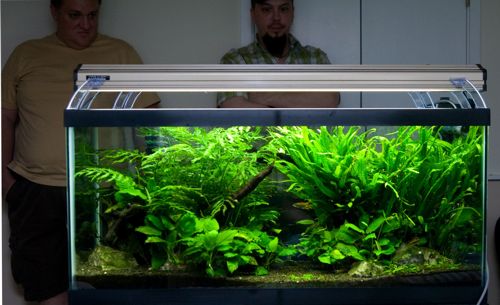 Walter and Jon looking into the 40 Gallon tank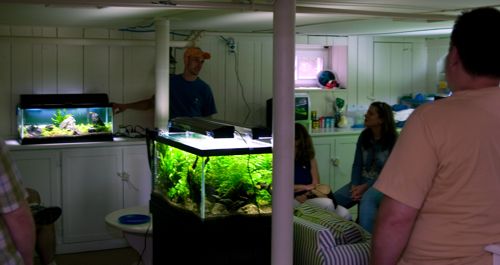 Ingo, (part of) Rhonda, Paula and Walter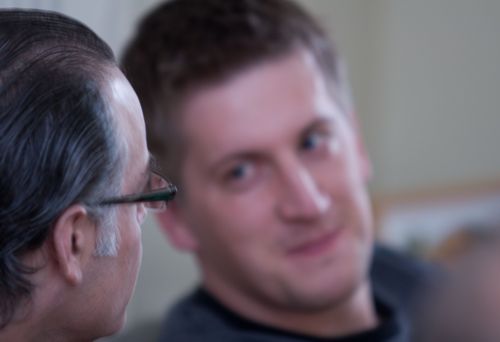 I know that smirk Jay, that new place of your is gonna have a tank twice the size of that puny tank Amano was showing (Mike and Jay)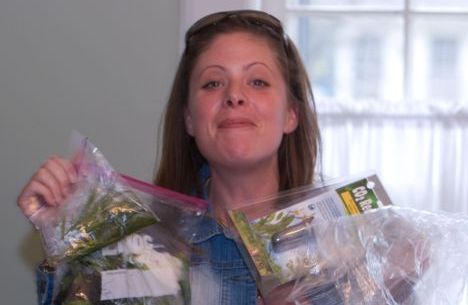 Paula and her goodies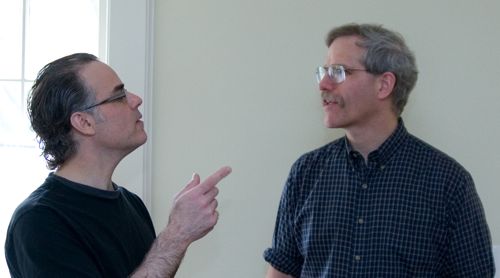 Ahhh, so that is my problem, the plants go in AFTER the substrate…interesting
Mike and Jerry
Thank you to
Ingo, Katy and their children, Sophie and Nicholas
for welcoming us into their home again!
Special thanks for the generous donations to Brian Waldbaum of: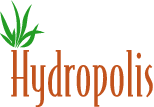 Until next meeting,
Joseph Hoetzl
Secretary/Webmaster